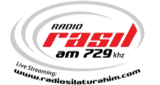 Radio Rasil
Radio Silaturahim sejak pertama didirikan dengan tujuan untuk menegakkan kalimat Allah, keadilan, memperjuangan kebenaran dan menyambung serta merajut tali persaudaraan diantara kaum muslim, tanpa melihat kelompok, golongan, sekte dan mazhab, dan tidak berprinsip pada kefanatikan. Mengudara di gelombang AM 720 Khz, Radio Silaturahim dengan konsisten akan terus memegang teguh konsep "Untuk Islam Yang Satu" sebagai model penyebaran dakwah melalui media radio guna mencapai tujuan menjadi radio dakwah yang dapat mempersatukan dan memberdayakan potensi ummat untuk kejayaan Islam. Radio Silaturahim secara berkesinambungan juga berkomitmen untuk memanfaatkan teknologi guna mendukung penyebaran dakwahnya.
Radio Rasil reviews :
No reviews added yet. Be the first to add a review for the station.
Leave a review