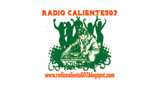 Caliente507 Radio is the station that plays all tropical rhythms. We have a variety of music from Salsa, Merengue, Bachata, Reggaeton and more. It is the exclusive broadcaster for exclusive listeners.
ElBachaRengue.Net - Bachata Merengue is a radio station broadcast from New York, New York providing Bachata and Marengue music format.
Super Q Miami is an internet radio station from Miami, FL, United States, providing Disco, Salsa, Merengue and Y mas music.